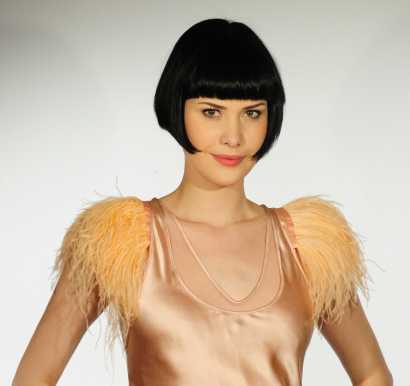 For those who never heard of her, Mayana Moura is a hazel-eyed Brazilian actress, former fashion model and also lead singer in a rock band called Glass n' Glue. She has this porcelain doll-like beauty and no matter what she's wearing, there is always sophistication.
Her personal style could be described as "Coco Chanel meets rocker chic", as she masters to pair elegant fancy frocks with cool t-shirts, studded leather jackets, adding some edge to her dressy outfits. Not to mention her black, bobbed hair, that was her signature hairstyle for many months and gave her an adorable look. This lady is one classy rebel.

Para quem nunca ouviu falar dela, eis Mayana Moura, actriz Brasileira, ex-modelo e vocalista de uma banda rock de nome Glass n' Glue. Ela encanta-me com a sua pele de boneca de porcelana, contrastando com os olhos cor de avelã, e a presença da sofisticação em qualquer indumentária sua marca pela diferença.
O seu estilo pessoal poderia ser descrito como "Coco Chanel + rocker chic", tendo em conta que ela consegue vestir roupa de grande elegância e complementá-la com t-shirts de bandas punk, blusões de cabedal, acrescentando irreverência ao conjunto.
Para não falar do seu corte de cabelo, bob, perfeito e preto, que foi a sua imagem de marca durante algum tempo. Esta senhora é uma rebelde de classe.