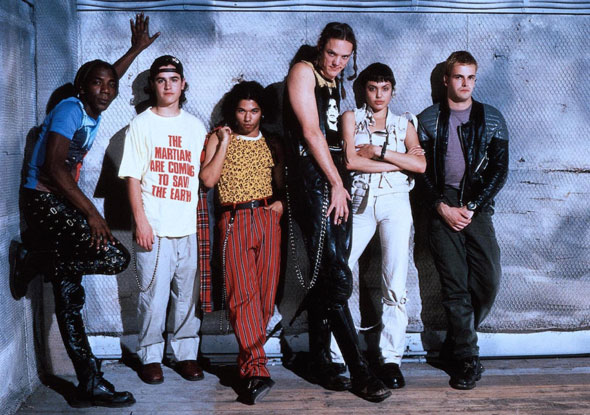 Oh, how I miss the 90's and its fun flicks! Hackers is that sort of film I've watched many times but I still want to watch it again, mostly because of its seizure-inducing visuals. This is the story about a young boy who is arrested by the US Secret Service for writing a computer virus and is banned from using a computer until his 18th birthday. Years later, he and his hacker gang discover a plot to unleash a dangerous computer virus and they must use their computer skills to find the evidence while being pursued by the Secret Service and the evil computer genius behind the virus - all this with roller skating scenes, videogames, romance and an insanely awesome kick-ass soundtrack!
I'm a sucker for Angelina Jolie, who was at her hottest in this film - the pixie haircut, quirky outerspace clothes, galactic make-up and sultry-not-thin-yet body.
This cyber cult movie is not exactly a masterpiece but it's sooo entertaining and iconic! I bet all of you already watched and you have to admit that the first time you were introduced to this young crazy hackers, you thought they were such cool urban cyber heroes!
Cyberpunks, noobs, nerds, geeks, cinephiles: You shall never forget about Crash Override and Acid Burn.

Que saudades tenho eu dos anos 90 e dos filmes da praxe! Hackers é aquele tipo de filme que já vi não sei quantas vezes mas continuo sempre a querer ver outra vez, quanto mais não seja pela estética vibrante não recomendável a epilépticos. Esta é a história de um puto que é levado pelos Serviços Secretos norte-americanos por criar um vírus potentíssimo e é então proibido de voltar a aproximar-se de computadores até atingir a maioridade. Anos mais tarde, ele e o seu gang de hackers descobrem uma intriga na qual lhes compete desvendar um perigoso vírus virtual e terão de usar as suas capacidades enquanto piratas cibernéticos para escaparem da perseguição tanto dos Serviços Secretos como a do vilão responsável pelo vírus - tudo isto numa desenfreada epopeia de patins em linha a desafiar semáforos, vídeojogos, romance e uma banda sonora fantástica e arrebatadora!
Sou louca pela Angelina Jolie que, devo dizer, estava no seu melhor no papel da Kate Libby aka Acid Burn - cabelo curtinho, vestimentas extravagantes, maquilhagem galáctica e muito menos magra que actualmente.
Este filme de culto cyberpunk não é uma obra-prima de outro mundo mas é tããão icónico e entertaining! Aposto que todos vocês já o visionaram e terão de confessar que a primeira vez que se introduziram neste universo hacker, acharam que os personagens eram heróis urbanos do mais cybercool possível.
Cyberpunks, noobs, hackers, nerds, geeks, cinéfilos: Nunca se poderão vir a esquecer do Crash Override nem da Acid Burn.