The punk-themed Met Ball was the last place in the world to play it safe. I expected more anarchy on the red carpet but apparently not everyone got the dress code right or took the style challenge seriously. Or maybe celebrities aren't ware of what classic, old school punk is about. However, my beloved Christina Ricci didn't let me down! She looked adorable, dressed in a Vivienne Westwood tartan dress and fishnets. She absolutely nailed it! The pointy toe heels were also a good idea. So, yes, that's the spirit, Christina. Punk chic, well done!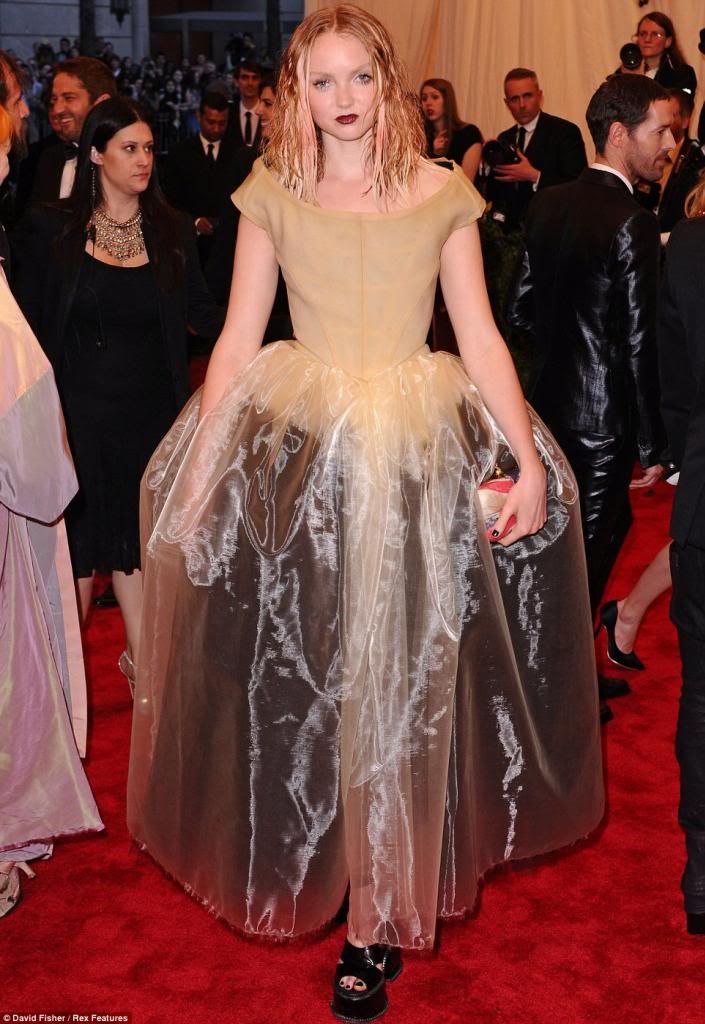 The gorgeous Lily Cole was my 2nd favourite. I knew she would attend a punk themed event in high style, flawlessly. Once again, a Vivienne Westwood couture gown - it can never go wrong. Black nails, rubber platforms, wine lips and bleached strawberry blonde hair instead of the usual ginger locks made this outfit epic with a grunge, kinderwhore approach!
I must also mention that I fell in love with Sienna Miller's kick ass Burberry jacket. Always trust the British roots!
Even though she didn't look very 1970's punk, Jennifer Lawrence was gorgeously classy in Dior. The red lips, pale skin and netted veil add a vampy, lady-like, retro edge. Very charming! Dita Von Teese would be proud.
Now, time for make-up.
Emmy Rossum looks beautiful. Such fierce smokey eye make up, paired with nude lips! Absolutely stunning. The braided hairstyle is also gorgeous - romantic and 1980's ethnic chic. So inspiring!
I know everyone loved Rooney Mara's dress but frankly, it was her make-up that catched my eye. That eggplant lip colour is awesome! The lashes look natural and I'm fond of the contrast between eyes and lips. A modern, minimal take on the goth side.
Ginnifer Goodwin rocked a darkwave eye make-up. Very 80's and New Romantic. Love the eyebrow effect, so badass!