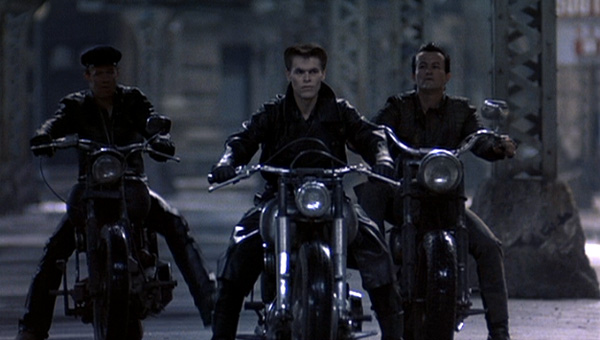 I've always wanted to watch a film like this. This is an urban adventure in a
strange world that seems to be a cross of the 1950's and the present or future. Romance, music and a vibrant gang battle going on really spice this flick up.
Directed by Walter Hill, this movie is a
self-proclaimed "rock and roll fable".
From a strictly aesthetic perspective, it was ahead of its time, and like most things that were ahead of their time, it flopped badly - I still don't understand how. Nowadays, Streets of Fire has a cult following.
Willem Dafoe shines as Raven Shaddock, bad guy.
Diane Lane is quite possibly the most awesomely sexy leading lady ever in this movie, the concert scenes are incredibly epic - no wonder you all feel like dancing to Nowhere Fast! There's a lot of atmosphere in this flick, the '50's styling with '8o's music works well - the neon drenched, rain soaked streets are a joy to behold in the DVD transfer of the film - however, I downloaded as it's a cheaper option, but I still managed to enjoy the visually stunning sets.
To sum up this cult movie:
Streets of Fire
is a terrific, entertaining, much underrated film - not to be missed!
Sempre quis ver um filme como este. Uma aventura urbana num estranho submundo que parece uma mistura entre os anos 50 e o futuro. Romance, música e vibrantes batalhas entre gangs que nos prendem ao enredo.
Realizado por Walter Hill, este filme é uma auto-proclamada "fábula rock and roll". De um ponto de vista estético, eis um filme à frente do seu tempo, e, como muitos outros do género, foi um tremendo flop - não compreendo como. Hoje em dia, tem uma conotação de culto. Willem Dafoe brilha enquanto Raven Shaddock, o mauzão. Diane Lane está maravilhosamente sexy, e as cenas dela em concerto são incrivelmente épicas - não admira que ainda hoje se passem ao som da Nowhere Fast! Este filme é bastante atmosférico. O styling 50's com a música dos anos 80 resulta bem - e as ruas regadas de chuva e reflexos de néon são um deleite cinematográfico cuja qualidade é inigualável em DVD - mas eu cá optei pela versão download, bem mais em conta, e ainda deu para apreciar o setting visualmente riquíssimo.
Resumindo e concluindo: Streets of Fire é um filme espectacular e entertaining, muito underrated - a não perder!